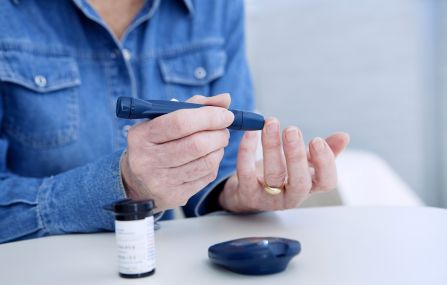 What is Diabetology? Diabetology is a specialized branch of endocrinology that focuses primarily on the diagnosis, treatment, and management of diabetes mellitus. Diabetes, a common chronic disease, occurs when your body can't regulate the amount of sugar (glucose) in your blood. With the assistance of our highly skilled diabetologists and supportive healthcare team, you can effectively manage your diabetes and prevent potential complications.
If for any reason you prefer not to or cannot leave your home, we also offer discounted remote consultations. Find out more by clicking here: https://dunamedicalcenter.org/en/news/remote-telecommunication-service
When should you see a Diabetologist?
If you're experiencing symptoms such as frequent urination, excessive thirst, unexplained weight loss, constant hunger, or fatigue, you should consider scheduling an appointment with a diabetologist. Additionally, individuals who have been diagnosed with diabetes will benefit from regular consultations with a diabetologist to manage their condition.
Understanding Diabetes
Diabetes is primarily caused by the body's inability to produce or effectively use insulin, a hormone that regulates blood sugar levels. There are mainly two types of diabetes: Type 1 and Type 2.
Type 1 Diabetes: typically develops early in life but can occur at any age. In this form, your immune system mistakenly attacks and destroys the insulin-producing cells in your pancreas, leading to a complete lack of insulin. Individuals with Type 1 diabetes need to take insulin daily to stay alive.
Type 2 Diabetes: the more common form, develops mostly in adults but is increasingly seen in children and teens. This type occurs when your body becomes resistant to insulin or when your pancreas doesn't produce enough insulin. Type 2 diabetes can often be managed through lifestyle changes, oral medications, and in some cases, insulin.
No matter the type of diabetes you have, our dedicated diabetology team at Duna Medical Center is here to guide you in managing your health. With our comprehensive diabetes care services, we aim to improve your quality of life and help you lead an active, fulfilling life.
Diabetology Examination
During a diabetology examination, the diabetologist specialist gathers information about the patient's medical history, lifestyle, and diet. They discuss potential complications and, if necessary, recommend further tests. Following the physical examination, treatment options can be discussed.
Glucose Tolerance Test (with 4 blood samples)
This test is used to detect disturbances in carbohydrate metabolism. The first blood sample is taken on an empty stomach. After consuming a liquid containing 75 g of carbohydrates, three additional blood samples are required. The complete test takes approximately two and a half hours.
Starch Test (with 4 blood samples)
This procedure assesses the function of the pancreas. After consuming starch, repeated blood samples are taken to determine the blood sugar levels. If the values do not rise, it suggests a disorder in the digestion of starch in the intestines.
Contact us today to schedule your appointment with our experienced diabetologists and take the first step towards a healthier, brighter future.
---
Prices
Diabetological control study

29 000 Ft

Diabetology professor consultation

38 500 Ft

Diabetology professor's control examination

32 500 Ft

Diabetology specialist examination

35 000 Ft

Diabetology teleconsultation

22 000 Ft
Prices are indicative