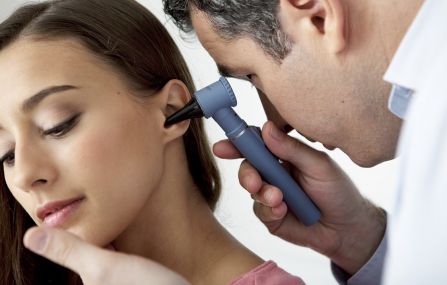 Our highly specialized team at Duna Medical Center offers comprehensive diagnosis and treatment services for a wide range of Ear, Nose, and Throat (ENT) disorders. ENT, or otolaryngology, is a medical specialty that focuses on the prevention, diagnosis, and treatment of diseases affecting the ears, nose, throat, head, and neck.
If you're experiencing symptoms such as ear pain, throat discomfort, nasal congestion, or other related conditions, our team of skilled otolaryngologists is here to assist.
Common Conditions Treated in ENT:
Earache: Pain in the ear can stem from various causes, including ear infection, change in pressure, earwax buildup, or a foreign object in the ear.
Acute Tonsillitis and Peritonsillar Abscess: Characterized by inflammation and infection of the tonsils, often causing throat pain, difficulty swallowing, fever, and more. A peritonsillar abscess, an accumulation of pus due to infection around the tonsils, is a severe form of tonsillitis.
Non-Infectious ENT Disorders: Our clinic handles not only infectious diseases but also non-infectious conditions like:

Ear Blockage: Often caused by conditions such as earwax buildup, changes in air pressure, or Eustachian tube dysfunction.
Nasal Congestion: May result from a common cold, sinusitis, or allergies.
Snoring: While commonly seen as a mild annoyance, persistent snoring can indicate serious conditions like obstructive sleep apnea.
Chronic Sinusitis: Long-lasting inflammation and swelling of the sinuses that can affect your quality of life.
Furthermore, at Duna Medical Center, we're equipped to handle rare head and neck surgical diseases.
Benign Tumors: We offer comprehensive services, from diagnosis to treatment, for benign tumors in the head and neck area.
Thyroid Diseases and Goiter: Our team is experienced in diagnosing and treating thyroid diseases, including thyroid nodules, thyroid cancer, and goiter (an abnormal enlargement of the thyroid gland).
Hearing Improvement Surgery: We specialize in surgeries aiming to improve hearing, helping you regain quality of life.
ENT Examination Procedure
An ENT examination generally involves a thorough review of the patient's medical history followed by a physical examination of the ears, nose, throat, head, and neck. This may involve the use of specialized instruments to view the throat, vocal cords, and nasal passages. Further tests like hearing exams, balance tests, and allergy tests may be required, depending on the patient's symptoms and concerns.
At Duna Medical Center, we prioritize your health and wellbeing, providing you with quality care and treatment solutions. Trust us with your ENT healthcare needs – you are in good hands with our team.
You can read about our otolaryngology surgeries by clicking here!
At the moment, there is no opportunity for an audiological examination in our institution, we thank you for your understanding.
---
Prices
Ear, nose and throat control examination

29 000 Ft

Ear, nose, and throat professor consultation

38 500 Ft

Ear, nose, and throat professor's control examination

32 500 Ft

Ear, nose, and throat specialist examination

33 000 Ft

Epistaxis - hemostasis

20 600 Ft

Examination of dizziness, if necessary with a repositioning maneuver

39 000 Ft

Histological sampling (without histological examination price)

29 400 Ft

Otoneurological examination

44 000 Ft

Removal of a foreign body from the nose and ear

20 600 Ft

Video-stroboscopy, hoarseness examination, phoniatric consultation (in addition to a specialist examination)

48 400 Ft
Prices are indicative