Colored plasters for pain
Nowadays, colored kinesiology patches have appeared not only on athletes, but also on the "man on the street", around which many misconceptions still circulate and many people use them incorrectly. The physiotherapist of the Duna Medical Center will help you navigate the world of colored tapes.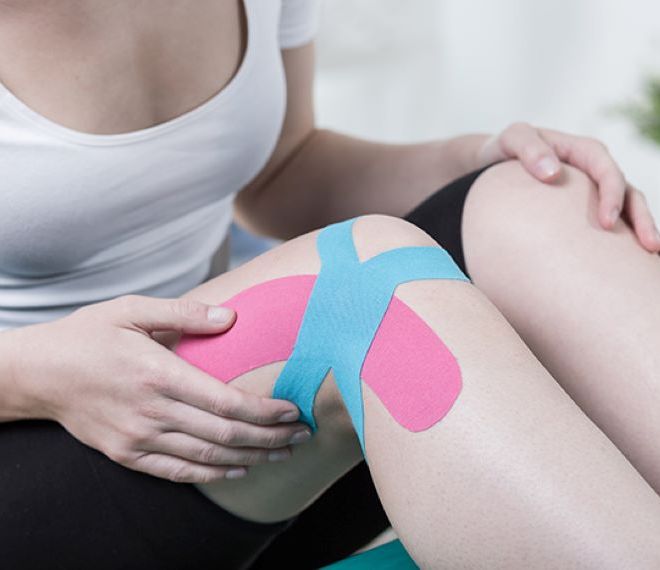 For athletes, mothers and babies?
Kinesiology patches first appeared at sporting events, as muscle strains, muscle and ligament injuries are very common among athletes, but in addition to treating joint ailments, this method is also excellent for preventing the risk of injury due to overuse.
The kinesiology patch strengthens and supports the body's self-healing processes and regeneration by continuously stimulating the receptors in our skin. It is not only suitable for alleviating sports injuries, as it is also an excellent complementary therapy for spine and limb pain, muscle problems, problems after locomotor surgeries and fractures. It improves blood and lymph circulation and reduces pain. By applying the patches, joints and muscles can be relieved, stabilized and corrected.
The patch can be used for the quick treatment of practically any locomotor disorder, be it sprains, sprains, fractures and post-surgery conditions, muscle injuries, muscle pain, muscle spasms. We should also try kinesiology tapes for spine and limb pains, but they can also be a solution for blood and lymph circulation problems caused by injuries.
Women's bodies change a lot during pregnancy, which is why complaints around the back, waist, and sacrum are common at this time. These can be easily alleviated with a kinesiology patch and a suitable gluing technique.
Colored tapes can also be used for babies from a few months of age, primarily in the case of orthopedic problems, injuries and muscle tone disorders, but it is also important to emphasize here that they are used as additional therapy. The material of the kinesiology patch for children does not differ from the traditional one, but the manufacturers also thought of children. Pieces with colorful, cheerful patterns are also available on the market, which the little ones will quickly become friends with.
But what is the patch made of?
The kinesiology patch is made of flexible, breathable cotton material. It contains medical acrylic, so it can be easily stuck to the skin. Its thickness is similar to human skin, it moves together with our tissues, it does not hinder us in our movement. Its application is not painful at all, and it remains on the skin for 4-5 days, even with daily showering. Does not contain medicine!
There are also kinesiology patches containing tourmaline, but their price is higher. Tourmaline contains minerals and anions and is mainly used for inflammatory problems.
Why is it colorful?
The material and durability of the different colored patches are unchanged. The difference between colors plays a role in color therapy. According to the theory of color therapy, colors can positively influence our mental and physical state. Based on the theory, it can be said that warm colors vitalize and energize, while cold colors calm and cool, so they are more suitable for reducing inflammation, for example.
Why not glue ourselves?
Although kinesiology patches are available to anyone these days, don't try to apply them yourself at home. A poorly applied patch can hinder muscle function and joint movements, cause pain, and can easily cause deterioration instead of improvement. In order to achieve the desired effect, it is recommended to visit a therapist skilled in the technique. Of course, if the given body part is comfortably accessible to the patient, the correct application can be easily learned with the help of the therapist, but do not try to find the place of the patch yourself at first!
This method, like movement therapy interventions in general, is always adapted to the given problem and the patient's current condition. In addition to the basic techniques, there are many application methods, in which only a qualified specialist can provide efficient, fast and personalized help.
When the patch is not recommended
The use of kinesiological plasters is not recommended in case of recent trauma, open wounds, burned skin, fresh surgical scars, birthmarks, psoriasis, thinned-parchment-like skin, severe diabetes, recent thrombosis. In the first trimester of pregnancy, experts do not place it on the abdomen and waist, and it should also be avoided if someone is allergic to the adhesive that secures the band.
For skeptics
In the international literature, we have been reading about research related to kinesiology tapes and their positive results for decades. Uncertainty about the method can only be overridden by experience. The physiotherapist recommends those suffering from locomotor complaints to try and enjoy the positive effect of the tapes!
If you also struggle with musculoskeletal complaints and would like to experience the beneficial effects of kinesiology patches, book an appointment for our physio and physical therapy treatments via our telephone customer service at +36 1 790 7070 or online!