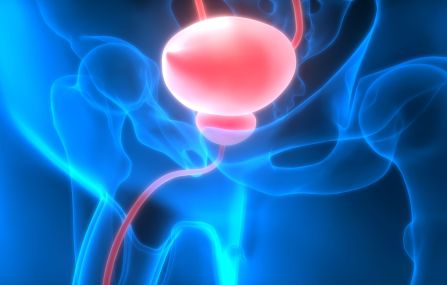 In our institution, we perform various urological interventions using state-of-the-art surgical instruments. Several of these procedures are performed using the so-called endoscopic approach. The essence of this method is to introduce a tube into the body through a natural body opening or a 1-2 centimeter incision, and perform the intervention with its assistance. This shortens the healing time and results in less discomfort.
Transurethral Bladder Tumor Resection (TURBT)
Bladder cancer is a malignant tumor that originates from the bladder and belongs to the relatively common types of cancer. The tumor most commonly arises from the transitional cells lining the inner surface of the bladder. Based on the growth pattern, bladder cancer can be categorized as tumor growing toward the bladder cavity, flat tumor associated with mucosal thickening, or invasive bladder tumors that penetrate deep into the bladder wall.
To establish an accurate diagnosis, in addition to cystoscopy, tissue sampling is necessary for the pathologist to identify the disease. Initially, the tumors are confined to the mucosa with a good chance of recovery, although recurrence is common. Over time, the tumor can penetrate through the mucosa, leading to the development of a dangerous, invasive tumor. Unfortunately, it can take a long time for symptoms to appear, and bladder cancer can remain unrecognized and grow into deeper layers.
When symptoms occur, patients usually experience painless, visibly bloody urine that is bright red or brown in color. However, it is also possible to observe only intermittent blood in the urine. If blood appears in the urine, it always requires a medical examination, even if the bleeding stops for a while and then returns later, possibly weeks or months later.
Once a tumor is detected, it must be surgically removed. The procedure can be performed under general anesthesia or spinal anesthesia.
The majority of tumors are removed endoscopically, through the urethra, using a camera: the operating surgeon monitors the image on a monitor and performs the intervention accordingly. Visible abnormalities are excised layer by layer, in small sections, until the healthy bladder wall is reached. After careful hemostasis, a catheter is temporarily inserted into the bladder, usually for a maximum of 1 week. The excised tumor tissue is always sent for histopathological examination.
Patients can be discharged from the hospital as early as the day following the surgery.
In advanced cases with deep-seated tumors that have invaded the muscular layer of the bladder, radical removal of the bladder (cystectomy) is performed. In cases of tumors that have spread to the surrounding tissues, palliative transurethral resection is carried out for hemostasis or to enlarge the bladder cavity.
---
Prices
Endoscopic crushing of bladder stones (with Holmium laser, up to 2 cm)

833 000 Ft

Endoscopic crushing of bladder stones mechanically (up to 2 cm)

764 000 Ft
Prices are indicative