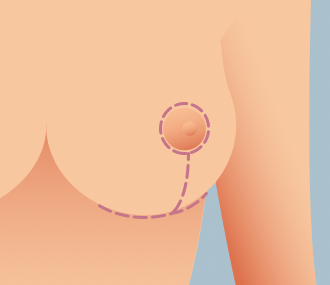 Excessively large breasts can pose problems for the individual. Large breast size can cause health complaints, back and spine pain, but it can also impose psychological burden, emotional difficulties, and potentially lead to self-esteem issues. It can be difficult to select appropriately sized underwear or clothing and can interfere with intensive sports. During a breast lift, the excess part of the glandular tissue of the sagging breasts is removed and the remaining tissue is fixed in a new position.
What happens during breast reduction?
During breast reduction, we remove excess glandular and fat tissue, thereby reducing the volume and weight of the breasts. The plastic surgeon creates the aesthetic breast by cutting out a portion of the elongated skin tissue from the remaining glandular tissue. During the breast reduction surgery, the milk duct units remain intact, so breastfeeding is possible after the plastic surgery. The operation is performed under anesthesia.
In the case of minor breast correction, a circular and a short vertical incision are made. For more significant corrections, the previous incision is supplemented with a horizontal one in the fold under the breast, this is called the inverted T technique. The most suitable type of operation is selected during a consultation with the plastic surgeon, taking into account individual characteristics.
Information about prices
Our prices do not include VAT. If the intervention has no medical reason, 27% VAT will be added to our prices.
---
Prices
Breast reduction

1 525 000 Ft

Plastic surgery examination

33 000 Ft
Prices are indicative