What can make the stool bloody?
Our faeces reveal a lot about us, a specialist can deduce the root of the problem just from its color or texture. And hemorrhoids are not the only possible problem that can result in a bleeding backside. Dr. Péter Sipos, a surgeon at the Duna Medical Center, explains why it is important to consult a doctor with bloody stools and what we can do to avoid making the problem worse.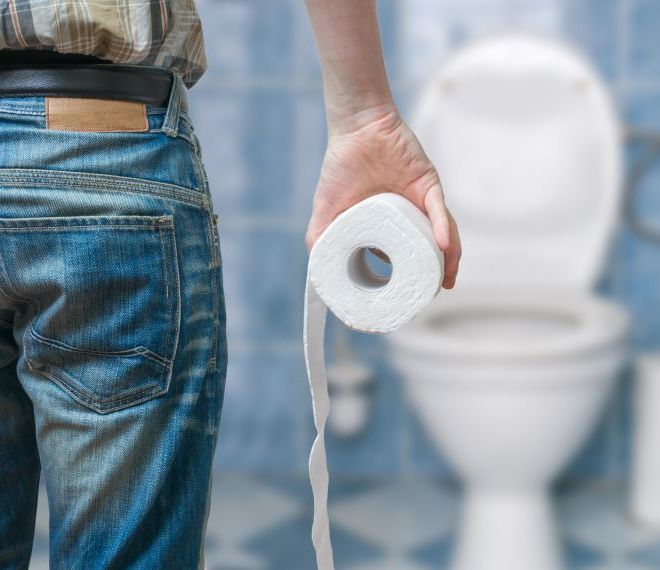 Bleeding in our intestines can occur at any age, in younger people it is more likely to indicate inflammation, injury, or rectal rupture, and in older people it is a more common symptom of a polyp or tumor. One thing is certain, it is largely due to our low-fiber and sedentary lifestyle, as these also have an impact on our bowel habits.
What can bloody stool indicate?
We must always pay attention and keep a constant introspection in order to be aware of even the smallest change. It's no coincidence that new parents follow every diaper change of their new baby, as the stool can tell a lot about the child's condition. This doesn't stop even in adulthood, we just forget about self-examination.
In most cases, hemorrhoids or fissures can cause bleeding in the rectal area. The closer the blood comes to our rectum, the more bright red it is. But we also distinguish black, so-called pitch stools, which may have an ulcer in the background and are colored by the rest of the blood decomposing in the stomach. Of course, our bloody stools can be due to many more reasons, such as a blood clotting disorder, intestinal inflammation, a benign polyp, or, in the worst case, a tumor. Taking anticoagulants or developing a protein deficiency due to liver disease increases your risk. If you notice other symptoms, i.e. pain, discomfort, loss of appetite or weight loss, consult a doctor immediately!
3 important things to do if you experience bloody stools
If we see from the color of our stool that something is wrong, a quick test available at a pharmacy can help determine the origin of the blood. This is not a substitute for a medical opinion, but it can confirm our suspicions.
No matter what type of bleeding you have, avoid activities involving heavy lifting, lifting, and sports that require high physical performance. Moving the pelvic floor increases the problem of both hemorrhoids and rectal fissures.
If your complaint does not disappear within a few days, you should definitely consult a doctor and ask for a proctological examination.
What does proctology examination mean?
The proctological examination - i.e. rectal endoscopy - examines the rectal canal and rectum, especially with regard to golden veins, rectal fissures, polyps, rectal fistulas and sexually transmitted diseases. Polyps in the intestine do not initially cause complaints, and depending on their size, they can be removed during mirroring. A colonoscopy is a quick examination, during which the injected gas can cause unpleasant tension, but we do not experience it during the endoscopy performed under anesthesia, as the gas is sucked out before waking up, so we do not feel anything afterwards. Benign polyps can appear regardless of age and can take more than 10 years to develop. These polyps can later transform into colon cancer, which can cause metastases even within 2 years after its appearance.
In order to prevent this, it is worth going to a screening test from the age of 40, and those who have previously had this type of disease in their family are more exposed to this danger. Over the age of fifty, the risk of colon cancer increases significantly, so annual colon screening is strongly recommended for this age group and for younger people who are prone to the disease.
You can make an appointment for a proctology specialist examination via our telephone customer service at +36 1 790 7070 or online!
Meet our proctologists: