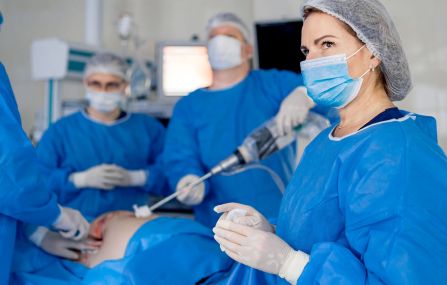 Diagnostic laparoscopy is a minimally invasive diagnostic method that allows visualization of the abdominal organs, and if necessary, sampling. The laparoscope is inserted into the abdomen inflated with carbon dioxide gas through a small incision. The inserted device has a small camera and light, which makes the organs in the abdominal cavity visible on an external monitor. Diagnostic laparoscopy can identify changes that other examinations have not revealed.
The procedure can identify changes such as hernias, internal hernias, appendicitis, abscess, sealed gallbladder, scar tissue, adhesions due to previous surgeries, abdominal injuries, pelvic infections, ovarian cysts, endometriosis, and damaged fallopian tubes.
Diagnostic laparoscopy can also be used to plan treatments.
When might diagnostic laparoscopy be necessary?
The most common reason for diagnostic laparoscopy is chronic or acute abdominal pain, as in 30-40% of cases, the cause of abdominal pain remains uncertain despite laboratory tests, physical examination, and imaging studies.
Additional cases in which laparoscopy becomes indicated include:
suspicion of an ectopic pregnancy
infertility investigation
ovarian-origin endocrine disorders
unexplained pelvic pain
endometriosis
pelvic inflammation
traumatic injury to the uterus or vagina
determining the stage of gynecological tumors
---
Prices
Diagnostic laparoscopy

625 000 Ft
Prices are indicative